The federal government is ramping up its multiagency response to the recent disastrous train derailment, explosion and chemical spill in East Palestine, Ohio, but says Congress holds the keys to timely, updated train regulations to prevent another disaster.
The Biden administration's increased efforts come after mounting criticism and heightened health worries from residents who say they don't feel safe breathing the air and drinking the water, despite EPA officials declaring it safe.
The increasing attention on the Ohio incident, just over Pennsylvania's western border, could prompt change, White House officials said in a background call with the press Friday. But swift action would have to come from Congress.
"Rulemaking takes years because it requires not just coming up with a rule but opening it up for public comment, conducting a cost-benefit analysis and facing legal battles," an official said. "Congress can act unilaterally and avoid that process. If there's renewed interest, the fastest way to get strengthened rules is for Congress to act on any of those items.
"We would welcome Congress considering everything it can do to better protect our communities."
Sen. J.D. Vance (R-Ohio) has floated the idea of potential legislation to improve rail safety.
Questions and concerns abound about the Department of Transportation's Federal Railroad Administration's rules on electronically controlled pneumatic brakes and hazardous material transport.
On Friday, House Energy and Commerce Chair Cathy McMorris Rodgers (R-Wash.) and Rep. Bill Johnson (R-Ohio), chair of the Subcommittee on the Environment, Manufacturing and Critical Materials, sent a letter to EPA Administrator Michael Regan requesting more information about the derailment, its aftermath and EPA's response.
The missive follows a letter from Ohio and Pennsylvania senators from both sides of the aisle.
White House officials on Friday detailed the roles six federal agencies are now playing in efforts to clean up hazardous chemicals left by a "controlled release."
The Department of Transportation and EPA, the agency tasked with hazardous chemical cleanup under federal law, have been on the ground working with Ohio state officials since Feb. 4.
The National Transportation Safety Board is investigating the cause of the train derailment.
The Department of Health and Human Services and the Centers for Disease Control and Prevention deployed teams Thursday to assess the risk from chemicals exposure, as requested by Ohio Gov. Mike DeWine (R) (E&E News PM, Feb. 16).
Meanwhile, more than 1,500 evacuated residents have been cleared to return home after officials released and burned carcinogenic vinyl chloride, along with other hazardous chemicals, from five derailed train cars in hopes of preventing another uncontrolled blast.
DeWine also requested additional funds from the Federal Emergency Management Agency, but President Joe Biden rejected his request.
Administration officials on the press call said FEMA is in "constant contact" with those in East Palestine, and that those funds will instead be reimbursed by Norfolk Southern Corp., the railway company responsible for the explosive train derailment.
Norfolk Southern agreed to cover all cleanup costs after EPA sent a notice of potential liability, citing its authority to issue a legally binding order under the federal Superfund law — the Comprehensive Environmental Response, Compensation and Liability Act (Greenwire, Feb. 15).
This is not the first time EPA has tangled with Norfolk Southern: In 2005,two trains collided in Graniteville, S.C., releasing a poisonous chlorine vapor cloud that killed nine people and led to the evacuation of 5,000 others. In 2010, the company agreed to pay a $4 million fine for the spill (E&E News PM, March 8, 2010).
The NTSB can also issue civil penalties for violations of rail safety and hazardous material regulations following the release of its investigation's preliminary findings, which could be released in just a few weeks.
Inside EPA's response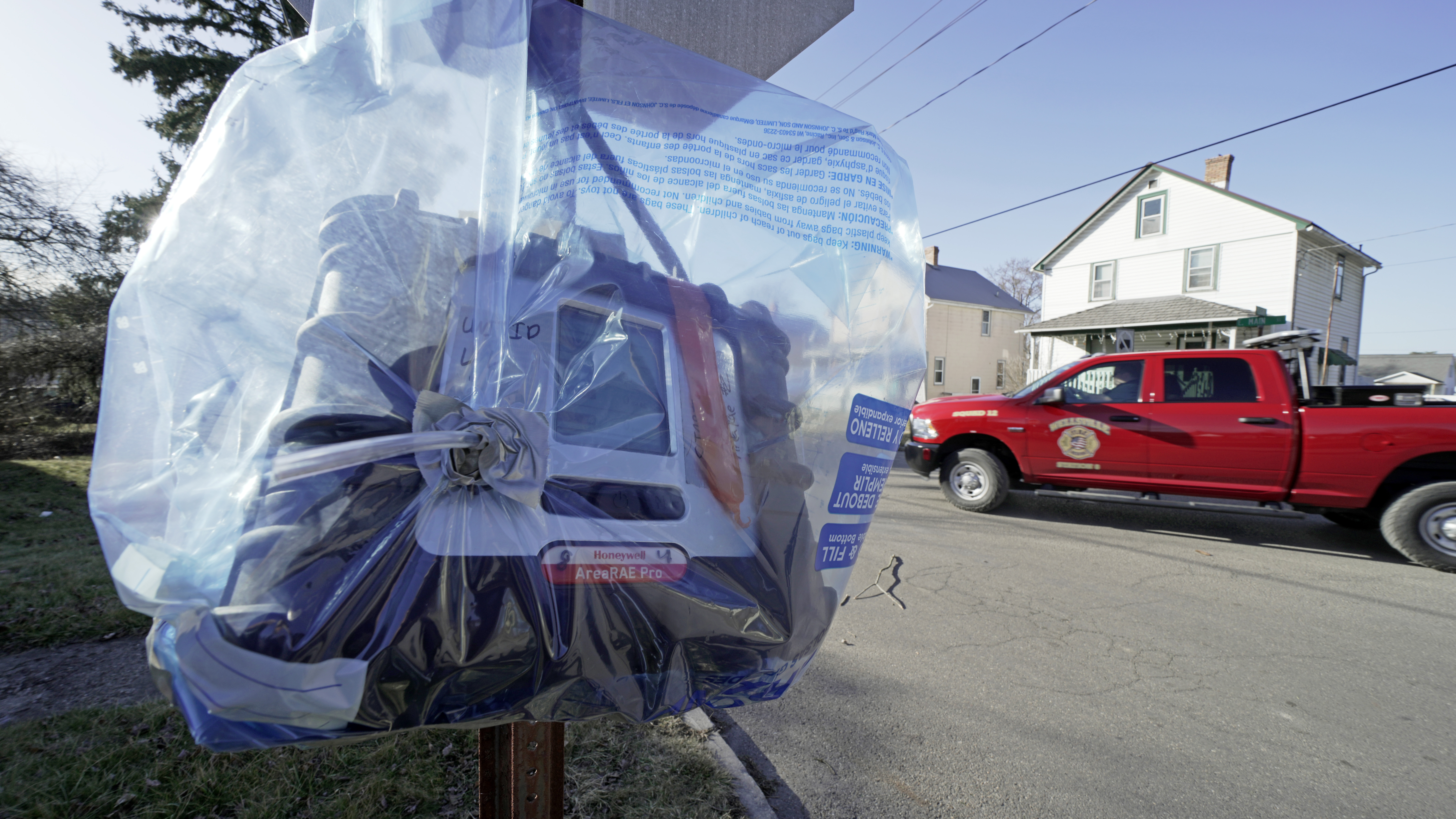 Soon after, EPA was notified of the Norfolk Southern train derailment the night of Feb. 3, agency personnel arrived in East Palestine around 2 a.m. the following day to assist state and local authorities, EPA spokesperson Maria Michalos told E&E News.
By the end of that Saturday, eight on-scene coordinators and nine support contractors from EPA were conducting air quality testing around the clock in and around the town.
That level of agency personnel at the site has remained steady. Six on-scene coordinators and 16 contractors were in East Palestine as of Thursday while dozens of EPA scientists and other staff in the agency's regions 3 and 5 offices as well as Washington headquarters are also supporting the response effort.
EPA also deployed a mobile laboratory to analyze samples and sent up its "sniffer" plane to collect data on air quality. The Airborne Spectral Photometric Environmental Collection Technology — or ASPECT — plane is used to respond to chemical and radioactive accidents.
Regan said at a press conference during his visit to East Palestine on Thursday that the agency is on the lookout for all volatile organic chemicals.
"We're testing for everything. We're testing for everything that was on that train," Regan said, adding EPA feels comfortable that it is "casting a net wide enough" to find any hazards.
The ASPECT plane made two flights on Feb. 7 after the controlled burn, Michalos said, sharing its flight report on the incident.
"There are currently no plans to return as there is no longer a smoke plume or active ongoing release into the air," Michalos said.
The EPA spokesperson said as of Thursday, 500 homes have been screened for air quality, while air monitoring since the fire went out Feb. 8 "has not detected any levels of concern in the community."