A coalition of the nation's largest climate and environmental groups — emboldened by President Joe Biden's historic appearance on the picket line — will be joining striking workers this weekend across the country.
But their vision goes beyond securing better wages for the workers building electric vehicles.
They see the United Auto Workers strike as playing a central role in their push for workers' rights and curbing pollution in industries that supply the automakers. The goal is not limited to just today's steel mills and aluminum foundries, but also the future battery plants and mines needed to power the electric future.
"UAW is a huge start to that because it puts other workers in a better position to say, 'We want to be at the table' in determining what this transition to a low-carbon economy means," said Matthew Groch, a senior director for heavy industry decarbonization at the advocacy group Mighty Earth.
Autoworkers and the green movement have had a rocky relationship in the past, but environmentalists see the labor movement as crucial to fighting climate change.
A win by the UAW against the Detroit automakers could also help unionize carmakers like Hyundai, Kia and Volkswagen that flocked to anti-union states in the South.
"We recognize that a victory here, when UAW gets the demands it wants from the automakers — this is gonna be a signal for the rest of the auto industry," said Yong Kwon, a senior policy analyst at the Sierra Club.
And the environmentalists consider unions a key role to cleaning up the car industry's suppliers.
A unionized workforce would likely help those heavy industries cut pollution, and the carmakers could help create demand for low-emissions materials since the auto industry is the biggest buyer of emissions-intensive aluminum and certain kinds of steel, said Chris Alford, a senior strategist with the Sunrise Project.
Biden met with UAW members Sept. 26 at a GM plant in Belleville, Mich., talking through a bullhorn about the need for workers to benefit when companies do well.
Dozens of activist and nonprofit groups that have been gearing up for months to support the UAW's walkout are now escalating their presence — from hitting the picket line to text banking and even canvassing dealerships across the nation that are affiliated with the Big Three.
As to fears that the strike will derail a shift to EVs, activists said the threat is overblown.
"I do think that's a [Big 3] tactic of trying to get environmental groups to be … critical of what's going on, when in the large case this is a fight for the next 10, 15 years for the autoworkers," said Groch.
Carmakers point out that they're already making progress in many of these areas.
GM has the only unionized battery plant in the country, a joint venture known as Ultium, spokesperson Jeannine Ginivan said in an email. And the company is working to ensure that its materials come from sources with strong environmental protections.
"GM has committed to a zero-emission, all-electric future, invested billions of dollars in EV manufacturing as well as on-shoring and ally-shoring the supply chain," Ginivan wrote.
And Ford and GM recently signed a letter with other carmakers calling on the Department of Energy to prioritize the aluminum industry in its clean energy grant programs.
But environmental and climate activists say automakers have more work to do up and down their supply chains. And while there's no expectation of a quid pro quo, green groups say they closely align with unions, hoping to boost worker and environmental protections as the globe moves to EVs.
"This is one of the best available points of intervention to set that precedent, to get the standards up, and hopefully that ripple effect continues," said Ben Smith, a senior campaigner for Greenpeace.
A natural alliance?
Unions and environmentalists have a tumultuous history, marked by shifting divisions and alliances.
The UAW, for instance, opposed higher fuel economy standards for cars, something that environmentalists fought for, said Ian Greer, who studies labor relations at Cornell University. At the same time, unions also have a vested interest in preventing industrial pollution, and the idea of a "just transition" originated with the labor movement.
Groch with Mighty Earth, who previously worked on trade issues at Public Citizen, pointed to the 1999 World Trade Organization protests, also known as the "Battle of Seattle," as an example of unions and environmental groups coming together to fight for fair trade agreements. That alliance is much like today, he said, as the two factions come together to push for job protections and a just transition to EVs.
"This is just the latest in a long history of labor and environmental groups coming together, when we're facing an existential threat," said Groch.
But Groch and other activists said there are no expectations tied to their support. "When I have an Earth Day rally in front of GM … if someone wants to come, that's great, but it isn't going to be a quid pro quo," he said.
Jennifer Krill, executive director of Earthworks, agreed and said environmental groups aren't expecting the UAW to back any specific demands or goals tied to a just transition in exchange for support on the picket line.
The environmental community's support, she said, is part of a natural alliance with labor, and groups like Earthworks want to see labor rights at all steps of the mineral supply chain, from extraction to processing and eventually — as in the UAW's struggle — how those materials are used to build EVs.
Krill noted that Earthworks has for more than a decade been working with the IndustriALL Global Union and United Steelworkers to develop standards for more responsible practices at mine sites.
"We are looking for the Big Three and all of the auto industry to clean up their supply chain," said Krill. "Given that cleaning up the supply chain is a demand for many other labor unions globally, I would expect that that's a part of what the UAW is thinking as well."
Cleaning up supply chains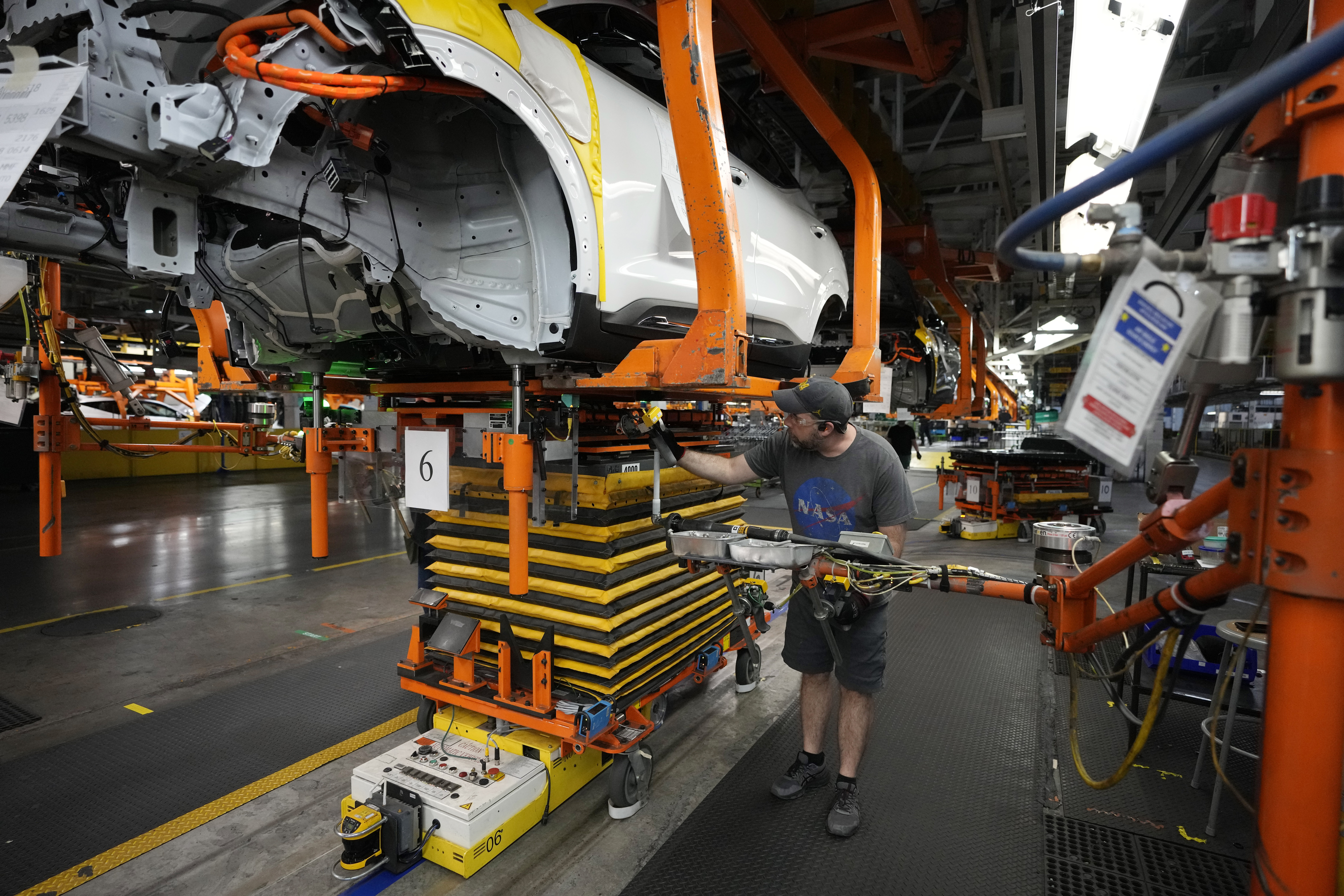 Climate and environmental activists heading to the picket line say slashing emissions from the EV supply chains is a must.
That's partially because emissions tied to EV production are about 35 to 50 percent higher compared to internal combustion vehicles, according to a reportthat consulting firm Kearney released in February.
A deeper look shows that steel, iron and aluminum represent the bulk of those emissions.
Heavy industries are responsible for about a fourth of U.S. greenhouse gas emissions, according to a September report by the Sierra Club. Four industrial sectors — iron, steel, aluminum and metallurgical coke — produce as much pollution as 36 coal-fired power plants, the report said.
The Biden administration has thrown its support behind decarbonizing the nation's coal-heavy steel sector. And there's already technology available to reduce some of those emissions, the Sierra Club's Kwon said.
Those industries employ 100,000 workers, many of them unionized, who could be enlisted in the fight to reduce pollution.
The Sierra Club, Mighty Earth and other groups that have joined forces under a coalition called Lead the Charge acknowledge that auto leaders are making moves toward fossil-free steel and aluminum, employing responsible mineral sourcing practices, scaling up battery recycling, and implementing human rights due diligence processes in supply chains.
The group's most recent analysis acknowledged action is underway at Mercedes, Volvo and Ford around human rights policies and pushing toward fossil-fuel-free supply chains.
But the alliance also says more work needs to be done, and that more than a third of all automakers have shown "no progress on aluminum, over half have shown no progress on steel, the biggest industrial metal climate culprit, and two thirds lack any kind of commitment to Indigenous rights."
Ultimately, the alliance between environmentalists and unions could help rebuild the labor movement after it was decimated in the 1980s and 1990s, said Gabriel Winant, who studies labor issues at the University of Chicago. It could also ease people's fears about the shift to EVs.
"Like any political alliance, it's got to be negotiated over time and built up," he said.
"You're never going to have a constituency for getting the U.S. off fossil fuels if working-class people think that creates suffering for them."