A lasting war between Israel and Hamas could complicate climate talks next month in the United Arab Emirates by raising tensions between nations with fragile alliances and triggering a race to secure energy resources over reducing carbon emissions.
It's too early to know if military hostilities will be sustained or spill beyond Israel and areas controlled by Hamas, the Palestinian militant group that attacked Israel on Saturday. But sustained conflict could make it more difficult to navigate climate negotiations being held late next month on the Arabian Peninsula at a time when reducing fossil fuels will be a centerpiece of the discussions.
"Instability provides challenges to any attempt at trying to build a difficult bridge to consensus. So if you have a bunch of regional interests, inflamed by war, it may not be possible to get full engagement or full agreement," said Kevin Book, managing director of ClearView Energy Partners.
"This was the problem with Ukraine. You know, the world is getting hotter, but Ukraine was on fire. And this is going to be a problem in Dubai," he added.
The abrupt start of hostilities in the Middle East comes as Russia's war in Ukraine continues to put pressure on countries far away from the fighting to find energy sources. That has complicated efforts to replace fossil fuels with renewable energy, as was evident at last year's climate talks in Egypt when achieving energy security sometimes overshadowed efforts to cut emissions.
"A land war in the neighborhood of producer nations could probably do the same thing, maybe more so," said Book.
While climate change transverses national borders, climate goals are set by individual countries. Geopolitical tensions could make it harder to reach an agreement on topics such as cutting fossil fuel production and use — particularly if it increases prices for oil and gas.
One challenge facing President Joe Biden is whether to tighten sanctions enforcement on Iran, including on oil exports that have helped ease a global supply deficit. Iran has been accused by U.S. lawmakers of being partly responsible for the attacks because it provides financial and material support to Hamas and Hezbollah in Lebanon.
A tightening of the market is something Saudi Arabia and the UAE might welcome since it would push oil prices up, said Gerald Feierstein, a senior fellow on U.S. diplomacy at the Middle East Institute.
At the same time, the Biden administration is likely sensitive about taking steps that could increase gasoline prices in an election year, potentially leading to pressure on Gulf countries to increase output.
Rising energy costs due to the war in Ukraine has already had wide-ranging implications for climate action, setting it back in places that couldn't afford higher prices for natural gas shipments and leading to policy decisions that offered a lifeline to fossil fuel producers.
Further turmoil could offer another pretext to delay the process of moving away from fossil fuels, regional experts say.
"At the end of the day, governments are going to do what they need to do in order to ensure energy supplies for their businesses, for their people," Feierstein said. "We'll have to see, if there's any kind of long-term threat to the security of oil supplies coming out of the Gulf region, that's going have an enormous impact globally."
Compartmentalizing climate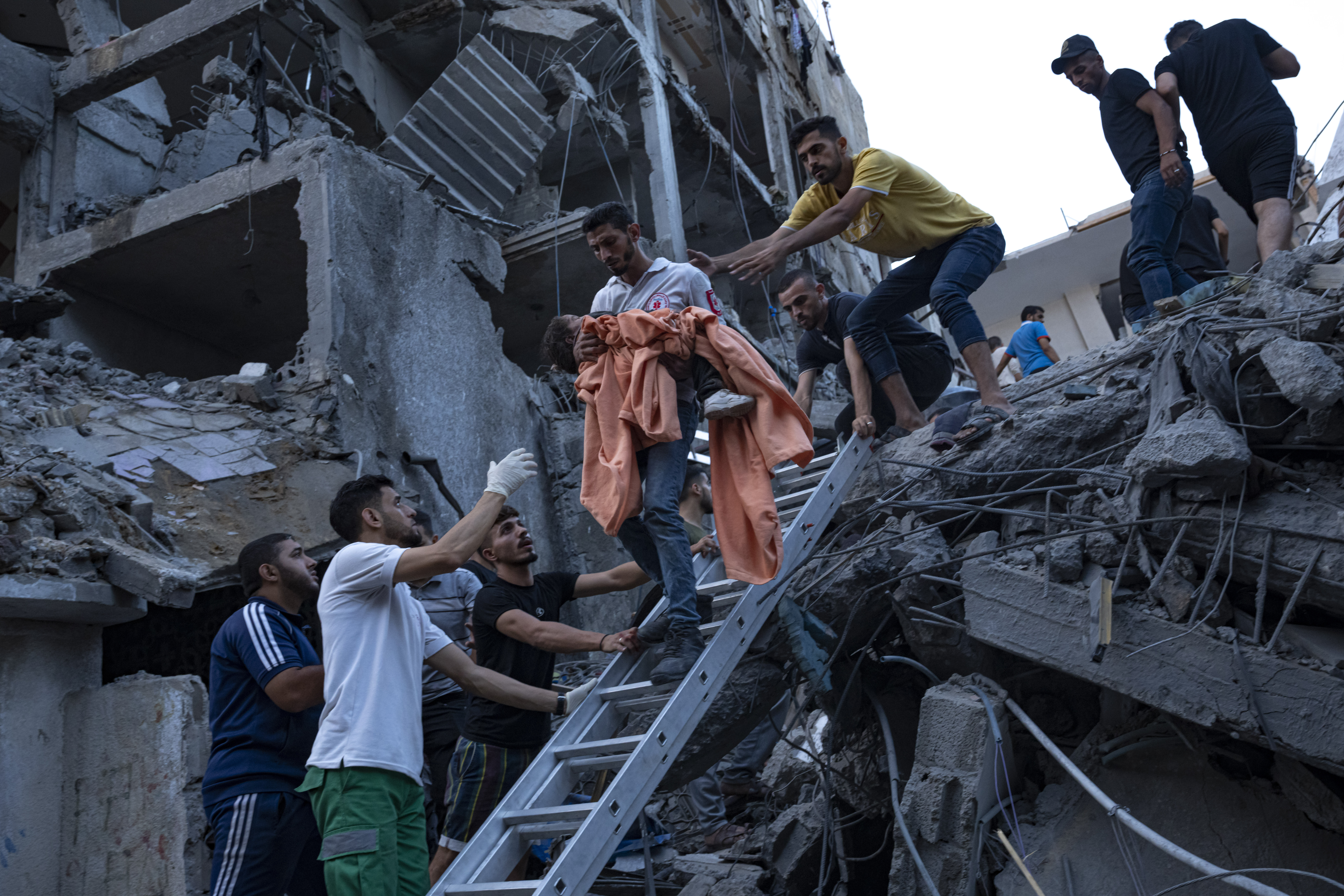 After the attacks began Saturday, the UAE remained focused on addressing climate change. On Sunday, Saudi Arabia hosted a Middle East and North Africa climate summit in preparation for the climate talks, known as COP 28, that will kick off in Dubai in late November.
"To make truly game-changing progress we must separate facts from fiction, reality from fantasies, impact from ideology and we must ensure that we avoid the traps of division and destruction," Sultan Ahmed al-Jaber, the UAE official leading this year's talks, said at the Saudi conference.
"This region has the resources, the leadership and the experience to create a climate-positive future of new industries, new technologies, new businesses, new jobs and, more importantly, new hope," he added.
Al-Jaber's comments could be an indication of how he handles the potentially explosive topic of war between a Jewish country and an Arab militant group. He might ignore it.
"The question is: How do Arab rulers hosting this COP and how do the proponents of normalization with Israel manage to keep the COP on track but compartmentalize it away from the events in Israel [and] Palestine?" said Fred Wehrey, a senior fellow in the Middle East program at the Carnegie Endowment for International Peace.
He'll be watching to see whether the fighting could push the focus of the talks toward more discussion about climate adaptation and the ability of vulnerable populations, including refugees, to respond to rising temperatures. He also wonders how tolerant the UAE will be of activism and protests.
Another factor is how much the U.S. decides to get involved in the conflict and whether that could impact its ability to marshal greater support for climate action.
"It would probably be even more difficult for the U.S. to make its case to some of these high emitters if Washington is actively engaged alongside Israel in the region," said Book of ClearView Energy.
On Monday, Biden promised to send assistance, including ammunition, to Israel after calling Hamas' attack an "act of sheer evil."
Another question is about the resources that are put toward the conflict. The need for humanitarian aid could compete with climate assistance at a time when countries are failing to meet past promises on climate finance. The UAE has called on wealthy nations to fund climate-related losses and damages.
"I think the United Arab Emirates will continue to press on, to make it a point that this is precisely why we need to focus on the common challenges that we face," said Merissa Khurma, program director of the Middle East program at the Wilson Center.
"But of course, how far you can go with that positive momentum always depends on the cycles of violence that we constantly see because they do raise tensions and they do make it extremely difficult to move forward with some of the inked agreements, let alone, bringing more agreements to the fore," she added.