President Joe Biden needs to run transmission lines through deserts and over mountains to meet America's climate goals. His old boss could tell him how hard that massive build-out will be.
In 2011, the Obama administration formed the Rapid Response Team for Transmission. It had one objective: to expedite the permitting process for seven major transmission lines across the country. But more than a decade later, only two projects have been finished. The others are in various stages of incompletion. One was abandoned, another is partially done and the remaining three are only now nearing the first scoop of a shovel.
Those delays underscore the difficulty of building high-voltage transmission in the U.S. and reveal a towering roadblock to America's climate goals. Congress recently passed $369 billion in clean energy tax credits in an effort to green the U.S. economy. But the country will need to more than double the rate of transmission development this decade to fully realize the emission benefits of that funding, according to an analysis by Princeton University researchers.
"We need to get a better balance because we just can't take 10 or 16 years to build a really good transmission project. It is not tolerable," said Ken Wilson, an engineering fellow at Western Resource Advocates, an environmental group. "If that continues to be the norm, we're not going to have an environment to worry about. It's going to be burned up and dried up, and the stuff we wanted to protect won't be there anymore."
Transmission has traditionally been a priority for both Democratic and Republican administrations. Building long-range, high-voltage power lines gives grid operators more flexibility to move power from where it's generated to where it's needed, increasing reliability and reducing costs.
That is especially important to facilitate the rapid growth of renewables. Wind and solar power that's generated in one part of the country needs to be shipped to cities and regions that use it. Take the example of TransWest Express, one of the projects selected by the Obama administration to be quickly permitted by the Rapid Response Team for Transmission.
The 732-mile line would bring wind power from Wyoming to California. The Golden State needs green electrons in the evening, when its natural gas plants ramp up to offset a decline in solar generation. Wyoming wind tends to blow strongest when the sun goes down.
"We need to be moving toward a much more integrated grid that moves clean megawatt-hours to where they are needed at a moment's notice," said Ben Serrurier, an electricity analyst at RMI.
But building transmission in America is hard. Last year, the country installed less than 400 miles of new line compared with 1,400 miles in 2020, according to the American Clean Power Association, a trade group (Climatewire, Sept. 6).
America's electric system is broken into a series of regional grids, and connecting them can be difficult. There is not an overarching organization tasked with planning inter-regional lines. Projects crossing federal lands often require approvals from multiple agencies. State regulators need to sign off on transmission corridors and, sometimes, their costs. The longer the line, the more confusion there is.
The very nature of transmission can make it a tough sell politically. High-voltage direct-current lines, which are commonly used to ship power long distances, can be like highways without exits. They pass through regions without supplying power to the communities they cross. That can create resistance in towns and states that host the lines but don't receive the power.
"These transmission projects serve interests in multiple states, they serve national imperatives like resilience and reliability. But they also have impacts on states and communities," said Jeff Dennis, general counsel and managing director at Advanced Energy Economy, a trade association. "We need to reassess permitting across the board to balance those objectives and put the right amount of resources into really moving these projects forward and addressing their impacts in a more timely way."
Not-so-rapid response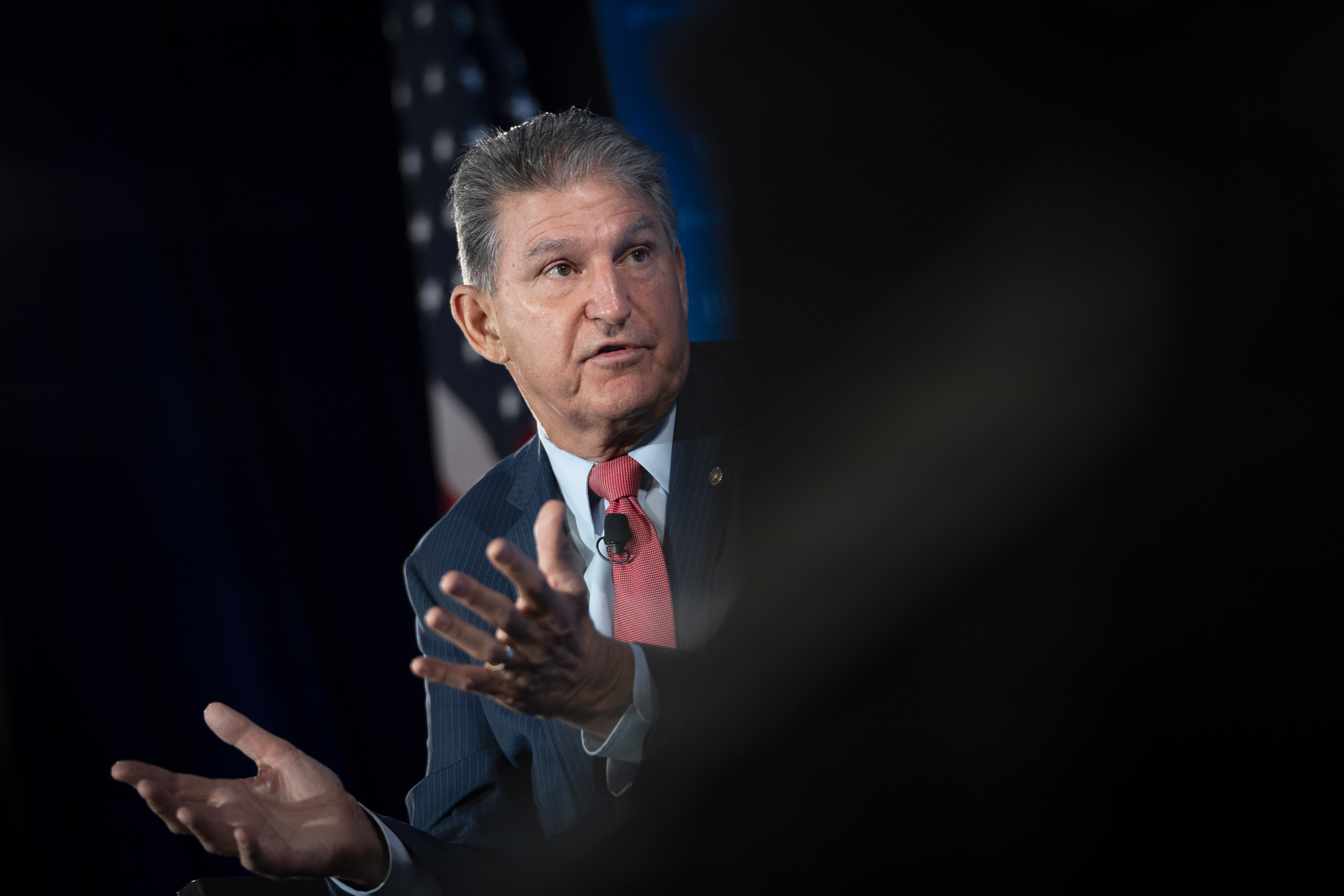 Congress recently tried to break the logjam. A proposal by Sen. Joe Manchin (D-W.Va.) would have given the Federal Energy Regulatory Commission far-reaching power to approve new transmission lines, in an attempt to streamline permitting and jump-start construction.
But the proposal was dropped after Democrats rebelled against parts of the bill aimed at expediting permits for fossil fuel infrastructure. Republicans also lined up against the bill, with some expressing concern the transmission provisions would trample on states' rights. Both parties have expressed interest in reviving the debate, but their differing objectives make a path forward hard to see (E&E Daily, Sept. 28).
That leaves Biden in a similar situation as former President Barack Obama: relying on existing authority to approve long-distance high-voltage lines.
But Biden has an edge over his former boss.
Congress passed permitting reforms in 2015 aimed at speeding up the regulatory process for projects that need federal approval. The bipartisan infrastructure law finalized last year gave the Energy Department authority to designate transmission corridors of national interest (Climatewire, Nov. 9, 2021). And the Inflation Reduction Act, the massive climate and health measure signed into law in August, provided $375 million to the Energy Department, Interior Department and FERC for permitting.
Yet the challenges are still just as daunting as they were when the Rapid Response Team for Transmission tried to pry obstacles out of the way a decade ago. The Obama-era initiative, which was overseen by the Council on Environmental Quality, was meant to improve coordination among all the federal agencies that approve transmission lines (Greenwire, Oct. 6, 2011).
Agencies have differing missions, prompting them to approach the permitting process differently. The idea of the Rapid Response Team for Transmission was to put senior officials from agencies like the Interior Department, Energy Department and EPA in the same room to resolve their differences.
The group focused much of its attention on the West, where transmission lines often traverse vast swaths of federal land, requiring approvals from multiple agencies before construction can begin. TransWest, for instance, needed to obtain approvals from the Bureau of Land Management, Bureau of Reclamation and the U.S. Forest Service. In the case of BLM, 14 individual field offices had input on the project.
Developers and federal officials involved in the process said the team was successful in improving coordination among agencies. But that coordination only went so far. One federal agency cannot order another to finish its portion of an environmental review by a certain date. They also noted that federal permitting was only one piece of the puzzle. State permitting processes take place on a separate track.
As a result, just two lines were completed: one linking Minnesota to Wisconsin and another connecting New Jersey and Pennsylvania. The five Western projects floundered.
PacifiCorp's Energy Gateway project, which would increase wind exports from Wyoming, is the furthest along. The company has completed 140 miles of its planned 2,000-mile expansion. Cascade Crossing, initially planned as a 215-mile line through Oregon, was canceled altogether.
"It was somewhat helpful; I wouldn't say it was tremendously helpful," said David Getts, general manager of the company that proposed SunZia Transmission, one of the seven projects to receive the Obama-era designation. "I wouldn't say it was lack of people or resources, but lack of statutory authority. In the effort to improve something, it is very difficult to speed up federal permitting without changes to the underlying laws that govern federal permitting."
SunZia and an associated wind farm are an $8 billion project. It was proposed by SouthWestern Power Group in 2006, with the intent of carrying wind from New Mexico into Arizona, where it could be sold throughout the West. It spent seven years under review by the Bureau of Land Management, was reviewed by state regulators in Arizona and New Mexico, and had to strike agreements with private landowners situated along the route. On top of that, 100 miles of the line was rerouted after the Defense Department raised concerns over its proximity to a missile base in New Mexico. It is now undergoing a permit amendment with BLM.
SunZia was sold this year to a renewable developer, which is aiming to start construction in 2023.
The experience left Getts doubtful that the pace of permitting timelines can be significantly reduced. He pointed to the extensive public meetings and comment periods as an example. That feedback ultimately helped create a better project, but it took time.
"You can't have it both ways," he said. "The simple answer is if you're trying to permit hundreds of miles of electric lines at high voltage, at best case, unless there is some dramatic change in federal and state levels, it is going to take 10 years to permit a major transmission project."
Not repeatable
Here's another example of the plodding pace.
In the Pacific Northwest, a 290-mile line linking Oregon and Idaho received final approval from Oregon regulators last week, five years after BLM issued its final environmental review.
The decision highlights the complex interplay between states and the federal government, said Adam Richins, chief operating officer at Idaho Power, one of the three utilities developing the project. State permitting for Boardman to Hemingway, or B2H as the line is known, could not begin until federal permitting was complete.
"The state-federal process needs to be coordinated," Richins said. "To the extent you can reduce the overlapping requirements and duplicative requirements, that is helpful."
B2H is part of Idaho Power's wider effort to power its system with zero-carbon energy by tapping different resources across the West. The line connects the Pacific Northwest, which is rich in hydropower, with Idaho, which has access to large amounts of Wyoming wind. The two systems also peak at different times of the year. Electricity demand in the Northwest is highest in the winter. In Idaho, it peaks in the summer.
"It's really taking advantage of the diversity of generation resources, but also the diversity of time and when these areas need these resources," Richins said.
A federal official who took part in the rapid response team said the group succeeded in establishing best practices for projects. Those included early engagement among developers, federal agencies and local communities. But he conceded that the group was "working within the margins" of the law. State processes take time, even when done in coordination with the federal government. And a single federal agency cannot dictate a permitting timeline to its peers.
The permitting bill proposed by Manchin sought to answer many of those concerns. It would have set a two-year deadline on National Environmental Policy Act reviews and tasked a single agency with coordinating permitting efforts across the government. The bill would have also expanded on the bipartisan infrastructure law by giving FERC the power to approve transmission corridors of national interest and exercise powers of eminent domain if needed.
Abigail Dillen, president of Earthjustice, said she believed the Biden administration has the tools to move transmission development forward. Funding from the Inflation Reduction Act should give federal agencies the resources they need to permit projects quicker. And the infrastructure law gives the Energy Department authority to designate transmission corridors of national interest.
"I think there are any number of ways to make the government work better," Dillen said. "I think this is a chance for a reset, and we have to take it."
The Department of Energy's Grid Deployment Office is leading a study to identify regional transmission lines, said Charisma Troiano, a DOE spokeswoman. A recent DOE study found transmission capacity needed to expand 60 percent by 2030 to relieve a backlog of renewables waiting to connect to the grid, she noted.
"We know that the foundation of the nation's climate and clean energy goals is a safe, reliable, and resilient electric grid that is planned hand-in-hand with community partners and industry stakeholders," Troiano wrote in an email.
Project developers, meanwhile, continue to wait.
TransWest, which applied for its first federal permit in 2008 and received its final environmental review in 2020, is waiting for BLM to allow it to start construction. A decision is expected early next year. The project has applied to join the California Independent System Operator.
PacifiCorp recently started construction on a 415-mile segment of its Gateway project, which will carry wind power from eastern Wyoming to central Utah. And Idaho Power is anticipating a legal appeal to its Oregon permit for B2H. The line is expected to come online in 2026.
Getts and the SouthWestern Power Group have moved onto a second transmission line that would run alongside SunZia. The line, named El Rio Sol, has been in development for 15 years and will likely take three more years to permit. When it's done, Getts will be finished with transmission.
"My company, my management, would not start on another journey knowing what we know now. We didn't expect it to take so long or so much money," he said. "I don't think it is a repeatable, sustainable business model."